Our Legendary She Crab Soup
What is She Crab Soup, and what makes Hank's the best?
Hank's Lowcountry She Crab Soup is all-natural, gluten-free, homemade, and of course, delicious. It's made from naturally sweet, locally-sourced, always fresh blue crab meat. Hank then adds his special blend of proprietary spices, a few flavor-enhancing vegetables, butter, cream, the signature crab roe — and more butter and cream. Hank takes pride in serving this historical soup, and he hopes his fans enjoy every bite.
Meet Chef Hank Yaden
Inspired by the influence of Lowcountry cuisine, Chef Hank Yaden has contributed to its offerings. He was handed a recipe in 1985 that was said to be one of the original recipes for She Crab Soup from the butler that created it in 1903. He developed it and now has made it his own.
Hollywood-born to a starlet mom, Chef Yaden was destined to a life of performance. In his early teens, he sprouted culinary wings in a part-time job at a Japanese restaurant in California. Working at night, coming home and watching the Galloping Gourmet on TV furthered his interest in the art of cooking.
Heading to the East Coast to chase his Southern belle and eventual wife, Wanda, he worked at the world-famous Fish Market Restaurant in Charleston, S.C., under Chef Heinz Graf Polke, and became a sous chef.
Chef Yaden gained more experience in the Holy City at the international cuisine establishment, The Cotton Exchange under Chef Bernard Schoor. He then moved into a partnership in a new venture, Queen Street Seafood Inn. The Inn drew visits from celebrities such as Barbara Streisand, Dan Rather, Tom Berringer and Lauren Hutton.
Later in 2003, Chef Yaden assisted The Charleston Crab House in opening its first location in Columbia, S.C. After touring the Columbia food scene for ten years, Chef Yaden decided it was time to head back down to the Lowcountry. He ended up in Beautiful Beaufort, where he has embraced a more laid-back lifestyle and is able to fulfill his dream and sell his award-winning soup by the sea shore.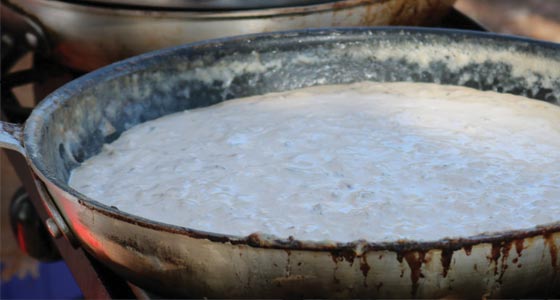 She Crab Soup: A Brief History
The Scottish settlers in the Carolinas are often credited with the introduction of crab soup to the region. When they arrived in the early 1700s, they brought with them their famous seafood bisque recipe, called partan-bree. Their original crab soup was pale in color and included rice.
She Crab Soup, as it's known today, was created mostly on a whim when Charleston mayor R. Goodwyn Rhett asked his butler, William Deas, to "dress up" the crab soup for a dinner party he was hosting for President William Howard Taft. Deas removed the rice and added the usually discarded, but now very important roe (crab eggs) to the soup, which gave it more flavor, a thicker consistency, and its signature orange hue.
Why is it called SHE Crab Soup?
Although the soup is made with both female and male crab meat, it isn't authentic She Crab Soup unless it contains the female crab's roe.